If you're thinking of buying a Tern e-bike, you may be wondering: Should you get a GSD or an HSD?
For some people, the answer is obvious. For others, the decision might be a little more nuanced. This article will discuss some of the factors you should consider in choosing between the two bikes.
Choose the GSD for Maximum Hauling Ability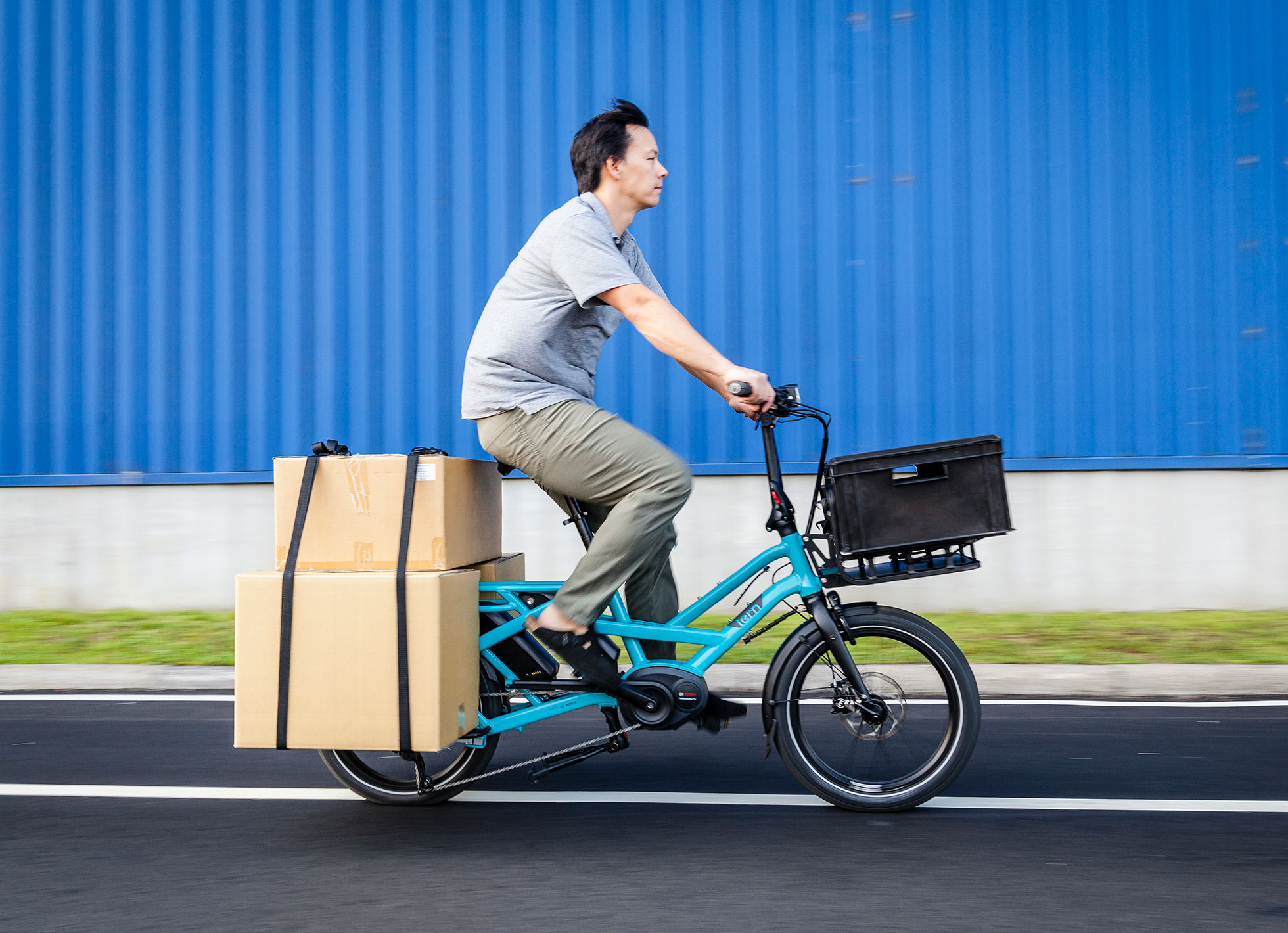 One of the first questions you'll need to answer when deciding which e-bike to buy is, "What do you need to carry on the bike?"
The GSD has a maximum gross vehicle weight of 200 kg (440 lbs), while the HSD has a maximum gross vehicle weight of 170 kg (374 lbs). The GSD can carry two kids or one adult on the back rack, while the HSD can carry one kid or one small adult (up to 60 kg).
We've noticed a few people asking, "Since the GSD can carry more than the HSD, why would I want an HSD?"
And that question highlights an important truth: If you know for sure you'll need the GSD's extra cargo capacity, then your decision is made. Parents who need to use the bike to drop two kids off at school each day need a GSD. So does anyone who plans to use the bike to haul extra-heavy loads.
But for folks with fewer than two kids who are looking for a versatile bike for everyday transportation needs, there are some scenarios where it makes sense to consider the HSD.
Here are a few of them:
You're Extra Small
The HSD is 10 cm shorter than a GSD, so smaller riders may find it easier to handle—especially with a load on the back rack. It takes less strength and leverage to lift the HSD over curbs and park it vertically, compared to the GSD.
You're Extra Tall
The HSD's cockpit is adjustable to fit riders from 150 – 195 cm (4'11 "- 6'5"), and very tall riders may find it more comfortable than the GSD.
The HSD's slack seat tube angle means that the higher you put the seat, the longer the cockpit is, which gives extra-tall riders some much-needed space. Even folks on the tall end of the rider height range should be able to enjoy a comfy, upright riding position on the HSD.
You're Looking for a Cushier Ride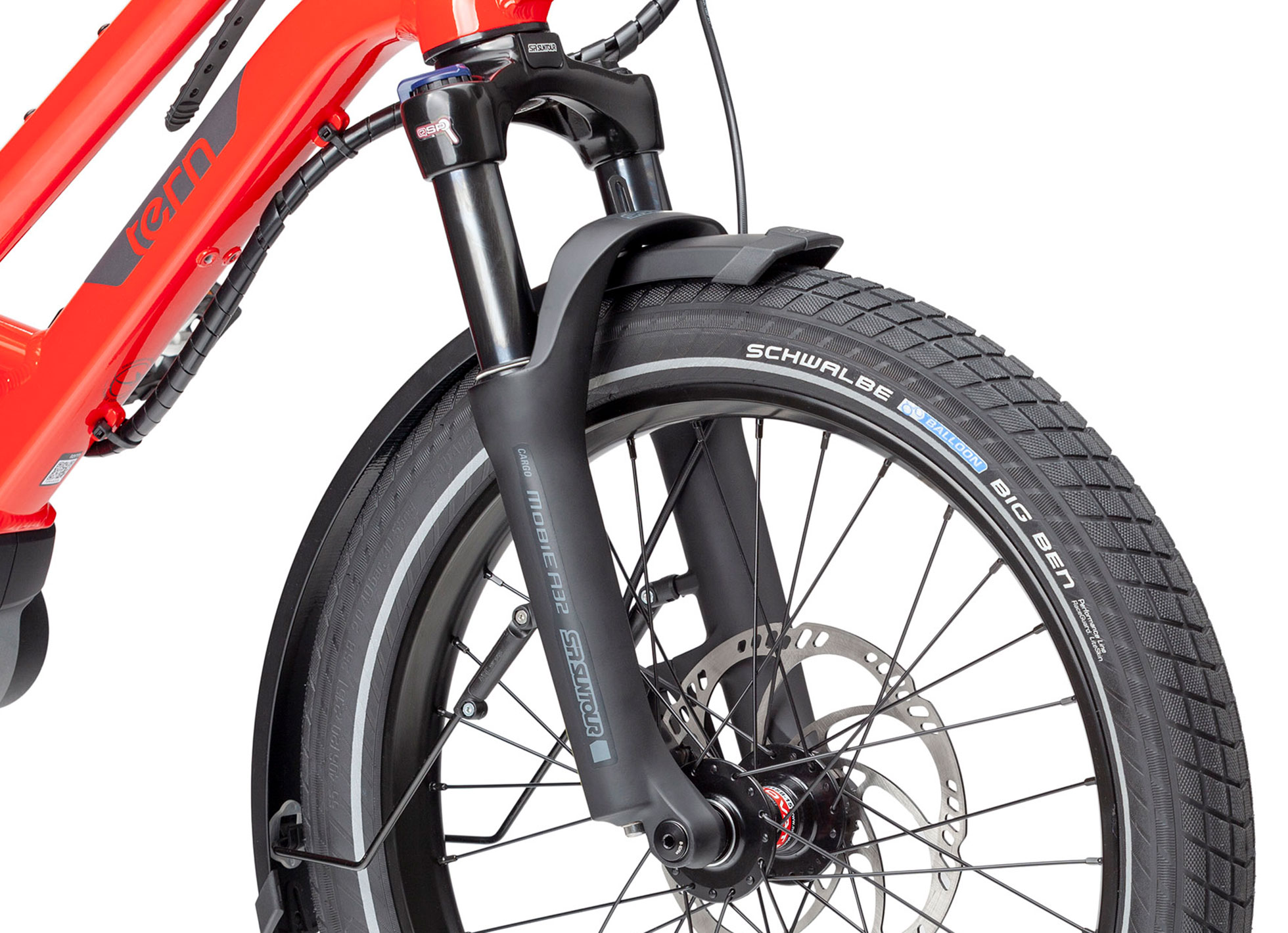 All HSD models have front-fork suspension, which makes riding on bumpy roads much more comfortable. The S+ also has a suspension seatpost, which makes an already-comfy ride even cushier.
The HSD also offers a fully upright riding position across all rider heights. Many riders find an upright riding position more relaxing, and it also makes it easier to see over traffic.
You Have a Small Living Space
The HSD is 10 cm shorter than the GSD. Its ultra-compact size is a big advantage for people with small living spaces, such as city apartments. The HSD is even easier to vertically park and takes up less space overall than the GSD. This is especially handy if you need to take the bike inside small elevators regularly.
You Want to Transport the Bike by Car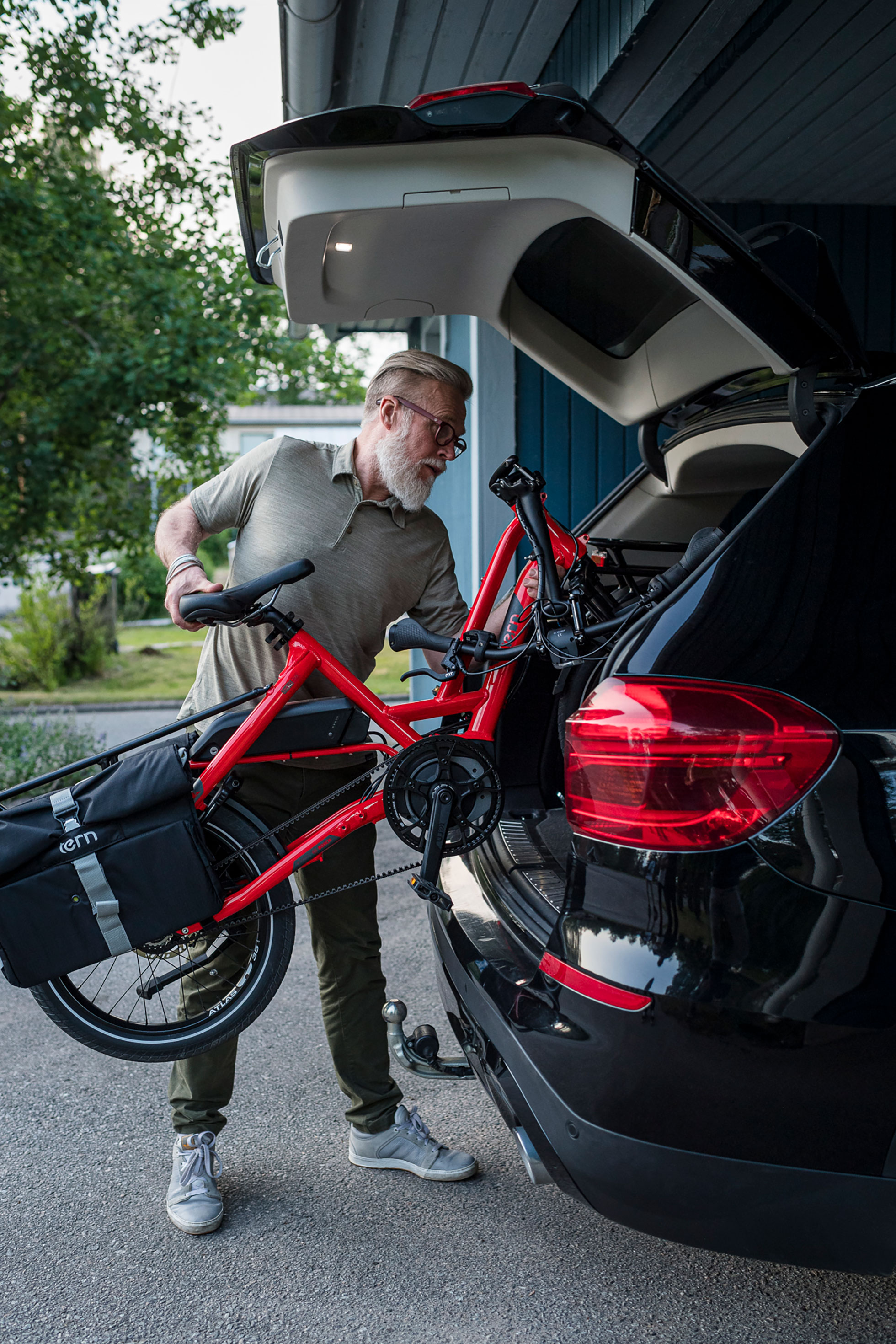 The HSD and the GSD both fold flat for storage and transport, but the HSD is easier to fit inside a car. As long as you have a small SUV and can fold the back seats down, transporting the HSD by car should be very do-able. This is a big deal because bike racks strong enough to carry an e-bike are quite pricey.
You Want to Take the Bike on Public Transportation
The HSD's smaller size makes it easier to take on trains, light rail, and other forms of public transportation. This makes the HSD better suited to multimodal commutes.
You Want a Low-Maintenance Belt Drive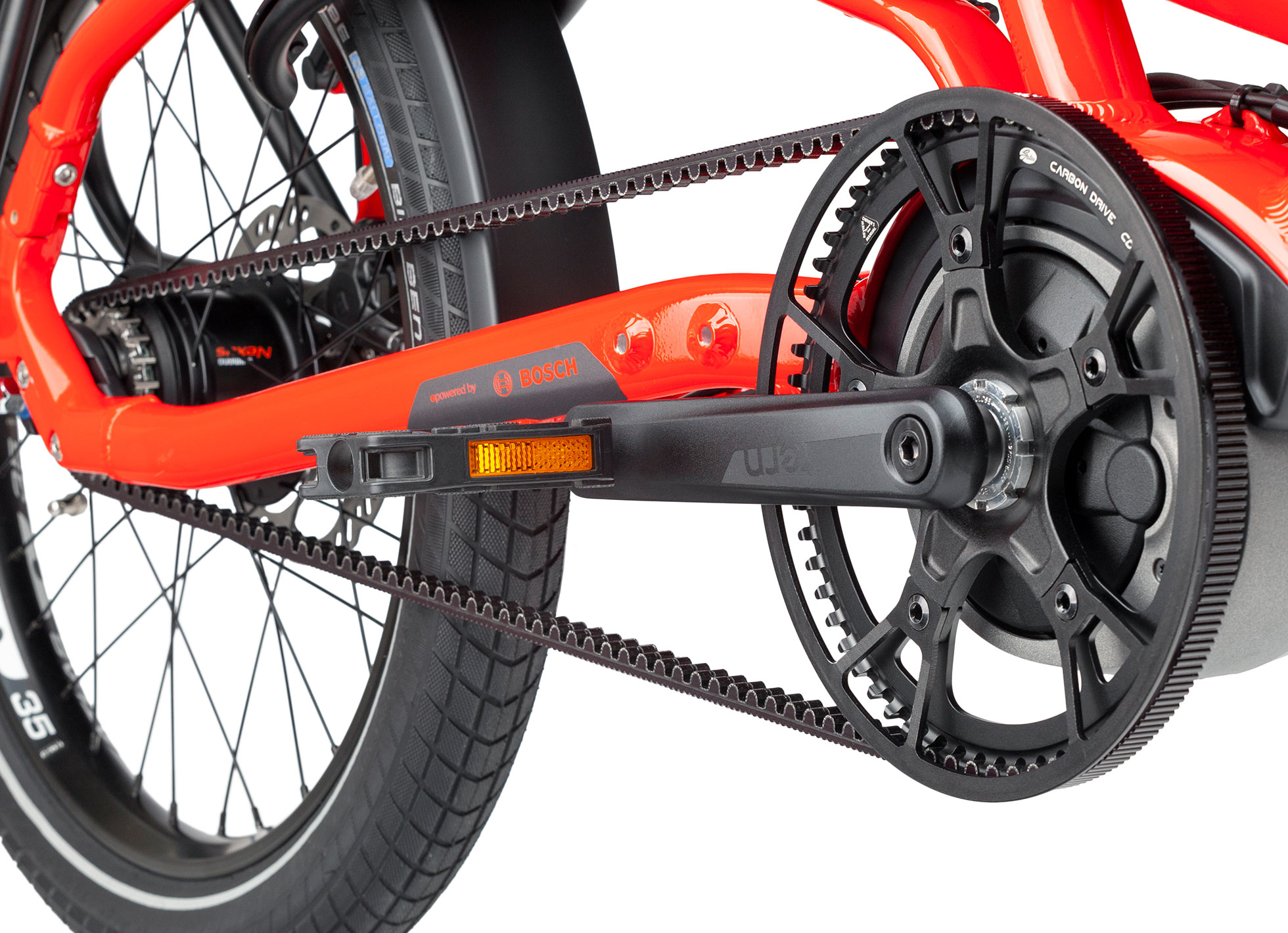 Unlike the GSD, the HSD S8i and S+ both feature the Gates Carbon Drive® CDX belt. This means that instead of a chain, the bikes have a belt, which is a series of nylon teeth that are reinforced using carbon fiber cords. Belt drives offer two significant advantages over chains.
First, belts are very low-maintenance. There's no need to lubricate or degrease your belt as you would with a chain. The most you'll need to do is scrub the belt with a toothbrush from time to time, and the belt drive will always run as smoothly and silently as a freshly cleaned and lubed chain.
Second, belt drives have a very long service life. A regularly cleaned belt drive can last upwards of 30,000 km (18,641 mi) before needing to be replaced—up to 4 times the life of a chain. And unlike a chain, it won't rust in wet or humid conditions.
As you can see, the HSD offers some serious advantages for people who don't need the GSD's heavy-hauling abilities. So are there any downsides? Just one.
No Dual Battery Option on the HSD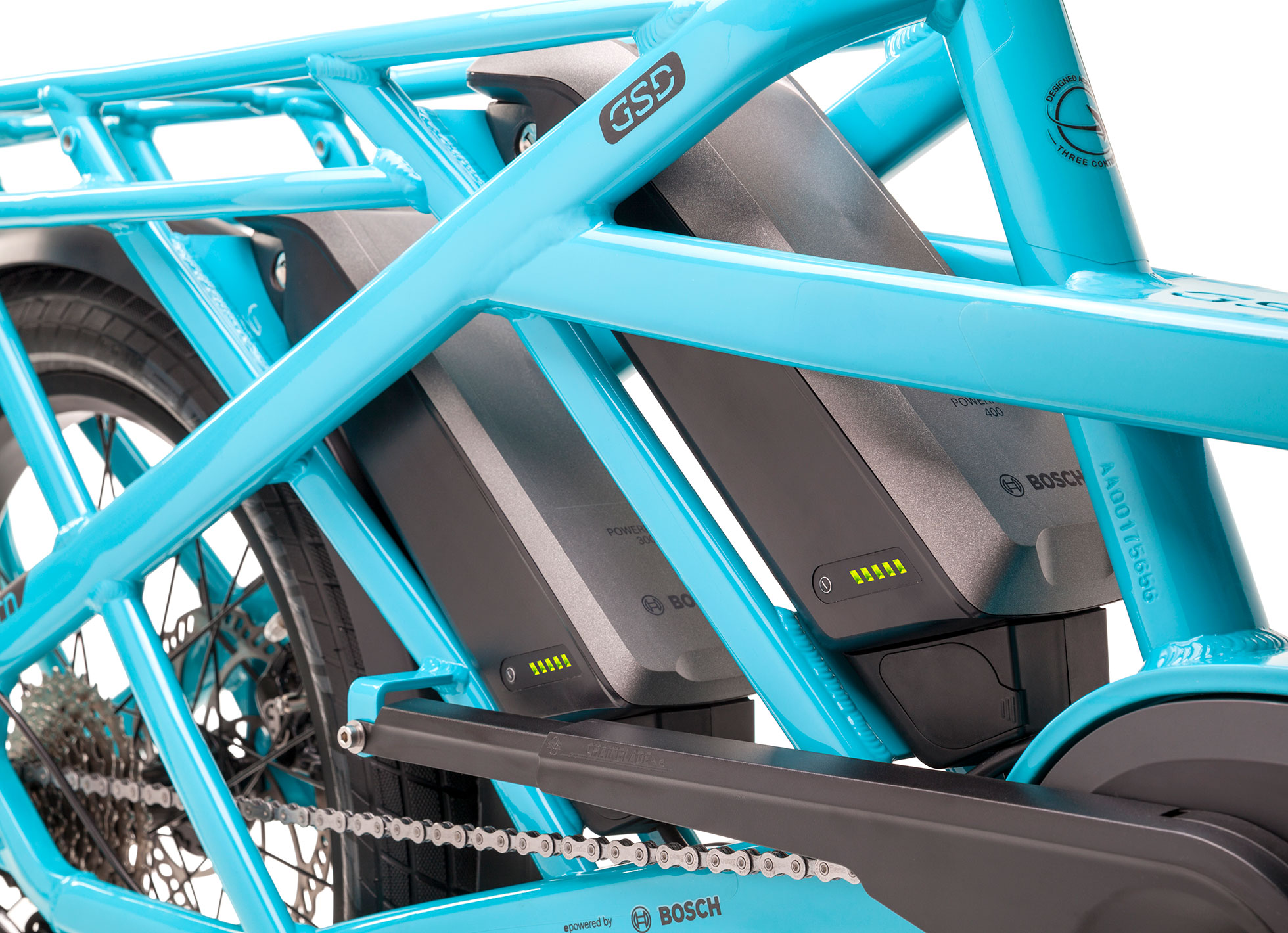 The GSD has a dual-battery option, which can extend the bike's range to over 250 km (155 mi). The HSD only has room for one battery and has a range of 42 – 110 km (26 – 69 mi). So if you know you'll want to ride extra-long distances without charging, the GSD may be a better fit.
Hopefully, you've now got a better sense of which bike is right for you. The next step is to visit your local Tern dealer, who can give you even more in-depth advice and let you test ride the bikes. Find your nearest dealer here.